About Sunrise
We're a movement of young people fighting to stop the climate crisis and win a green new deal
Our objective
We are the climate revolution
Together, we will force the government to end the era of fossil fuel elites, invest in Black, brown and working class communities, and create millions of good union jobs. We're on a mission to put everyday people back in charge and build a world that works for all of us, now and for generations to come.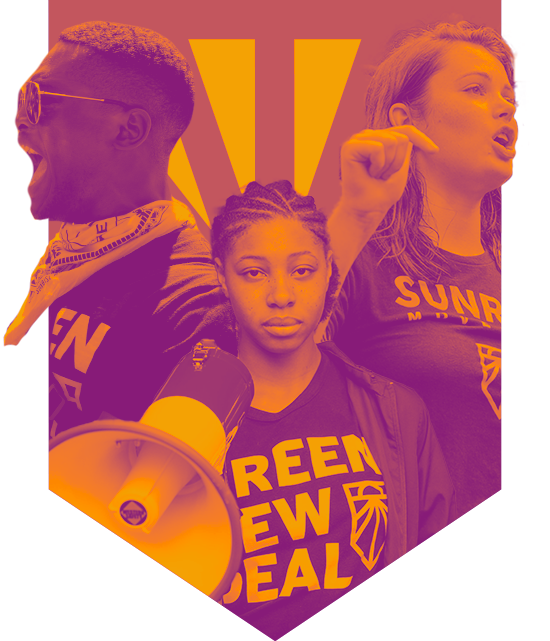 Strategy 1
We're making the Green New Deal popular.
We're showing that climate policy can improve the lives of everyday people, and that the Green New Deal is the only way we can confront the climate crisis at the scale and speed that science and justice demand. By winning real Green New Deal policy, we're building the base of people across race and class who can feel the benefits of a Green New Deal in their communities.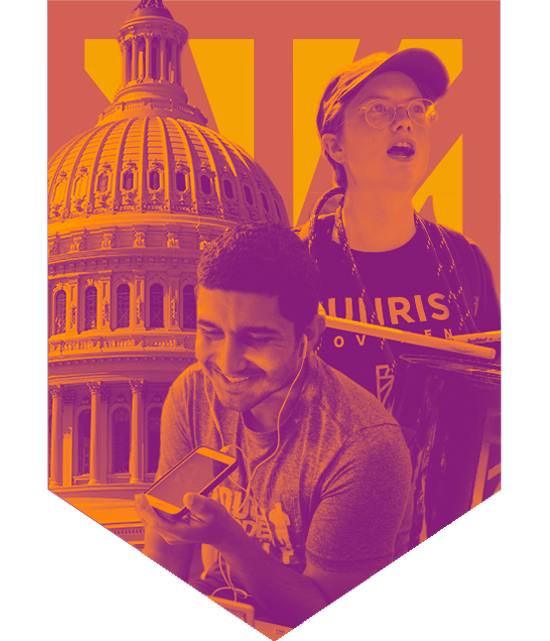 Strategy 2
We're building the power to take massive action that can force rapid change at the federal level.
There are moments in society where a protest or event can expose the truth of the crisis to the public. Think about when Rosa Parks didn't get off the bus, or Hurricane Katrina. All at once, everyone, everywhere stops to ask – what can I do? In those moments, if enough people show up in a major way, politicians have no choice but to listen to our demands – because that's the only way that society and economy will function. Our job is to organize with thousands of people to seize on those moments, as our ancestors have.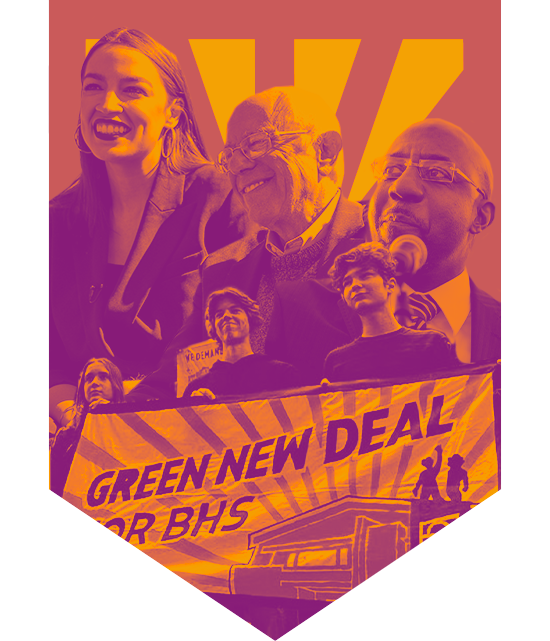 Strategy 3
We're TAKING OVER.
As billionaires and politicians try to take control of our schools, our bodies and our lives, we're building an unstoppable groundswell of public support to not only fight back, but to take over and win the world we deserve. From city council to president, we're ready to have people with our vision of the world in power. That looks like building a slate of Green New Deal champions at every level of office, it means taking over institutions like schools and colleges so that they're teaching us about the climate crisis, and above all, it means being relentless until we win.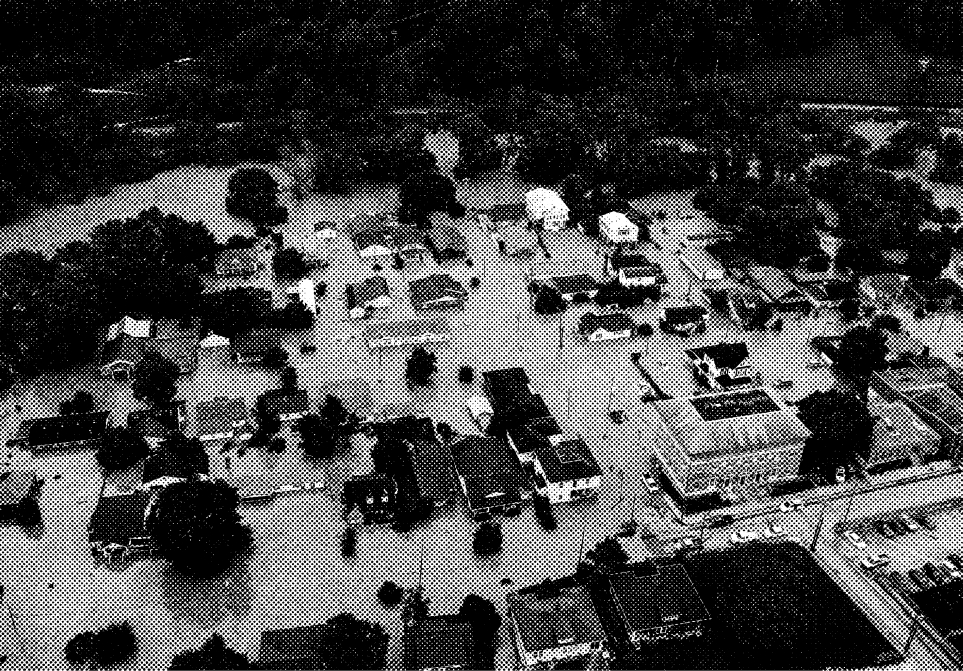 The PROBLEM
Our Communities Are On the Line
Climate change is happening, and it's intensifying. For decades, fossil fuel executives and the politicians they employ have driven us to climate catastrophe. And now, we are at a crossroads – are we going to fight for power to stop the climate crisis, or are we going to let billionaires and fossil fuel executives lead us to a hotter, more brutal world?
In 20 years from now, the world we live in will be almost unrecognizable.
Heat waves, floods, and hurricanes will become more frequent. By 2050, it's predicted that 1.2 billion people will have to flee from their homes. Disease will spread. More loved ones will drown or die from heat stroke. We'll see food getting more expensive – a third of crops are predicted to not be growable. And of course, these costs will hurt all of us, but they will hurt low income, Black and brown communities the most.
Not only must we stop the crisis from getting worse, but the transition to a new world must be led by us. Will we use this moment to address racism and injustice, or will we let the ultra-wealthy profit off this crisis?
What the future holds is up to choices we make right now.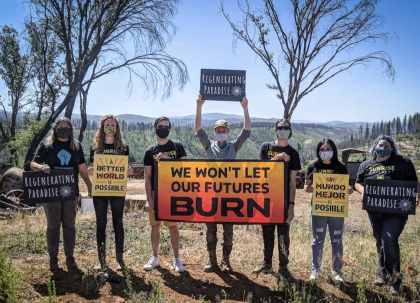 Our theory of change
We're building people power and political power. We fight for what we believe in, no matter what
We are fighting for what science demands – government action that actually meets the scale, scope and urgency of the climate crisis.
We believe that in order to win the world of our dreams, we must build a movement of thousands of young people across race and class to take to the streets and disrupt business as usual until we force the change we need. Together, we will shift public opinion, elect Green New Deal champions, and fight for Green New Deal policies at every level of government.
Only then can we take over our institutions and win the world we deserve.
Theory of change
Our strategy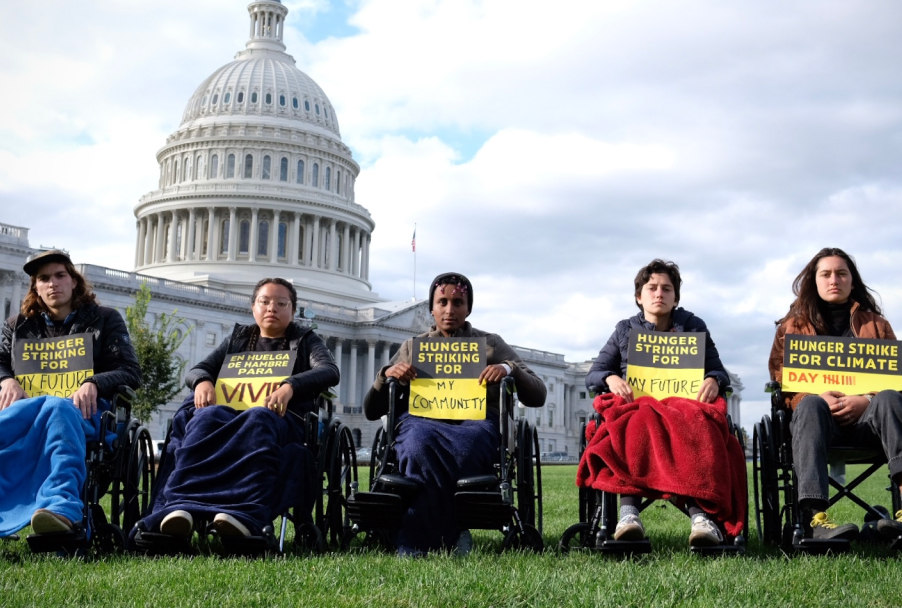 Theory of change
Our story
Our principles
Who We Are
Principle 1
We grow our power through organizing our communities.
We bring our neighbors, families, classmates, community leaders, and thousands of unorganized young people into our movement. Building a mass movement of ordinary people across race and class is the only way we transform society.
Principle 2
We are rooted in what we're fighting for.
We all have something to lose to the climate crisis and something to gain in coming together. We tell our stories about race, class, where we're from, and who we are to remind ourselves and the public of that truth. This is how we build a powerful movement.
Principle 3
We are all on a journey to become better organizers, leaders, and people.
Our opposition is powerful and disciplined: we need to be too. We take our own growth seriously by developing our craft as organizers and learning from our mistakes. We do this with compassion for ourselves and each other.
Principle 4
We rise to the challenge.
This moment in history requires us to take risks, embrace experimentation, and do things we never believed were possible. We choose hope over cynicism and action over fear – when we step into leadership, make hard decisions, or take to the streets.
Principle 5
We transform ourselves so our movement can win.
We are fighting to become the generation that turns the tide against racism and the institutions built upon it. We unlearn oppressive attitudes and confront a status quo that divides us based on our race, class, where we live, who we love, and who we are. Getting there is a lifelong journey, but we're prepared.
Principle 6
We ask for help and give what we can.
Some of us give time, others give money, donate housing, or offer skills. When we are struggling, we reach out for support. We redistribute our resources to grow our community and enable more people to participate in the movement.
Principle 7
We respect each other and our shared home.
The only way we will win is with a movement of everyday people. We treat every person we meet with the respect that belief requires. To do that we have to build trusting relationships that let us hold each other accountable across rank, race, and other identities.
Principle 8
We are a united movement.
Every time we knock doors, take action, or talk about the Green New Deal, we know that there are thousands of other Sunrisers working alongside us. We ground our work locally, and throw down together at key moments to transform our whole country.
Principle 9
We oppose state violence with nonviolent action.
We live in a violent, militarized state that evicts, deports, incarcerates and brutalizes people and then looks away when crisis hits. Those in power use this violence to keep us scared, disempowered, and divided along lines of race, class, and geography. We, as Sunrise, will not win by confronting their violence with violent actions. We combat their violence by boldly organizing our communities across race and class.
Principle 10
We are in solidarity with other movements for change.
Winning a Green New Deal is one step in the project of collective liberation. We learn from the legacy of movements that came before us, stand beside groups who share our values, and unite in key moments to shift the balance of power in our country.
Principle 11
We are full of determination, fire, and hope.
Though our times are often dark and difficult, we know that sinking into despair is not an option. We choose to believe in ourselves and our movements, and make space for light and love in our lives. Changing the world is a joyful and fulfilling process, and we let that show.
Movement timeline
2017
Sunrise is founded.
2018
Sunrise shoots to the national stage after a sit-in in Nancy Pelosi's office with AOC, demanding a Green New Deal. Hundreds of hubs launch across the country.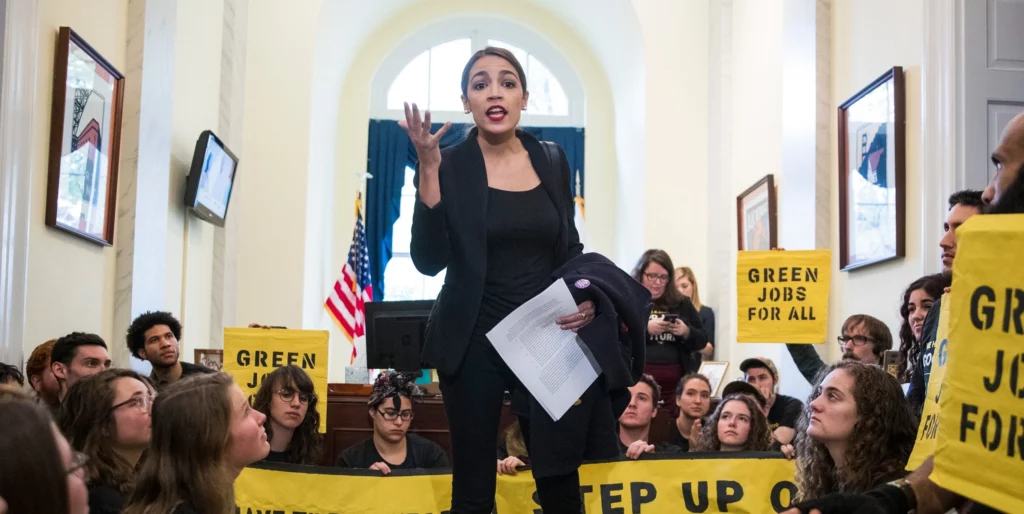 2019
Sunrise popularizes the Green New Deal and makes climate change a central issue in the Presidential primaries. (Through the global climate strikes, Climate Debate campaign, Bernie endorsement, Green New Deal resolution, etc.). Thousands of new members join the movement.
2020
Sunrise helps defeat Donald Trump, and is able to shape Joe Biden's climate policy platform.
2021
Sunrise launches 'Good Jobs for All' Campaign to make Biden deliver on his campaign promises.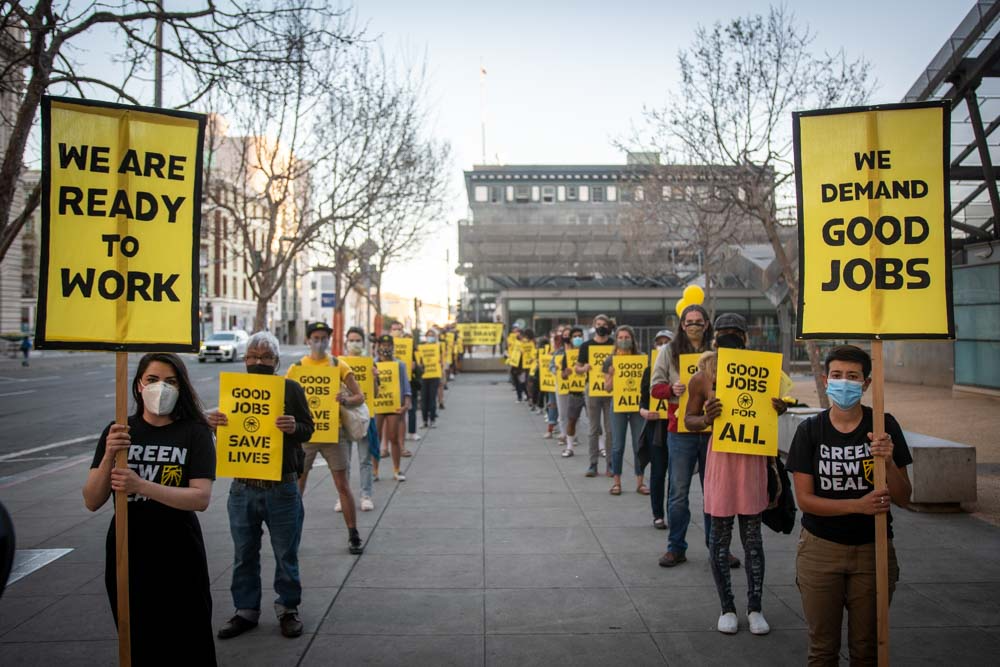 2022
Inflation Reduction Act passes. Sunrise helps elect new climate champions to Congress, contributing to the second highest youth turnout in a midterm in 30 years.
2023
Sunrise launches Green New Deal for Schools and Green New Deal for Communities campaigns. The American Climate Corps based on Sunrise's vision of the Civilian Climate Corps is officially established.