OUR CAMPAIGNS
ELECTORAL ORGANIZING
We are on a mission to put everyday people in charge and force the government to work for us. Sunrise has helped elect hundreds of Green New Deal champions at all levels of government, gotten thousands of politicians to sign the no fossil fuel money pledge, and mobilized our generation to make climate a top issue in our elections.
our impact
Despite two years of mass disillusionment and alienation, Sunrise and young people across the country delivered a shocking rebuke to conventional wisdom on Election Day 2022. Our work as a youth climate movement directly resulted in our generation being the largest voting bloc for the Democratic Party.
Sunrise contacted over 3 million voters, primarily under the age of 35, in an effort to win primaries for Green New Deal champions in the House and keep the Democratic majority in the Senate. We launched a massive phone and text campaign across dozens of primaries, including in successful races of Summer Lee (PA-12) and Greg Casar (TX-35). In the general election, we mobilized thousands of young people to volunteer with us to organize college campuses, knock on doors, make calls, and send texts to voters in Wisconsin and Pennsylvania in an effort to elect Mandela Barnes, John Fetterman, and Summer Lee, among others.
In addition, our local, volunteer-led hubs organized and mobilized voters from Arizona to Maryland, Oregon to New York in order to win elections up and down the ballot.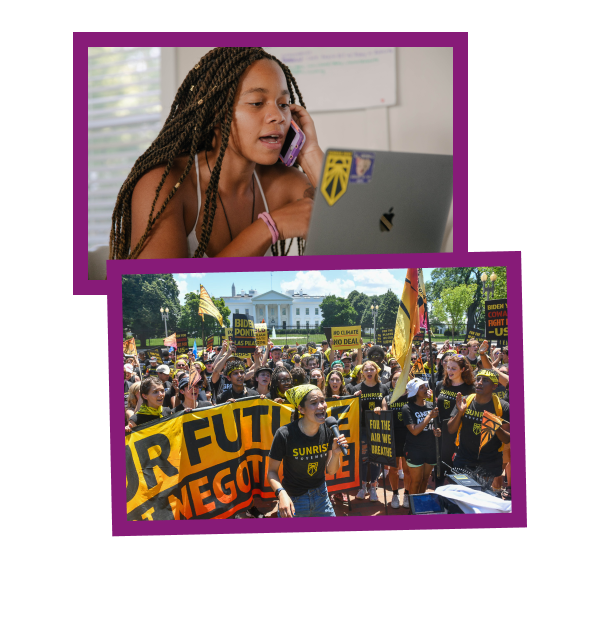 our work
movement wins
2020 Climate Mandate
Sunrise Movement and our allies campaigned aggressively from the start of the Democratic primary to force climate into the conversation. While we endorsed Senator Bernie Sanders in the crowded primary, other candidates, including Biden, heeded our call, releasing more and more aggressive climate plans. 23 of 25 candidates endorsed a Green New Deal, and after on the ground pressure from Sunrise on holding a climate debate, CNN subsequently held a climate town hall in June 2020, with every major Democratic candidate in attendance.
Sunrise helped ensure that climate would be a winning issue for Biden by deploying money, volunteers, and resources to have a major impact on youth turnout – including contacting more than 4 million potential voters on Biden's behalf across eight swing states ahead of the general election. Sunrise not only powered Biden to victory, but also helped elect a slate of climate champions, including Jamaal Bowman, Cori Bush, and Ed Markey. In 2020 we contacted over 6.5 million voters in the primaries and general election creating the largest youth turnout in history. We gave Joe Biden a Climate Mandate.
State and Local Elections
Winning a bold and ambitious Green New Deal that doesn't leave people behind will require us winning elections at every level of government. Sunrise hubs around the country have already elected hundreds of GND champions to local and state office to make this possible. From city halls to county commissioners to state legislatures we now have real leaders in office fighting for us.
Green New Deal Champions
Since 2018, Sunrise has propelled progressive, Green New Deal champions to the halls of Congress. Our movement, along with strong allies, elected the first members of the Squad by organizing our communities – making thousands of calls and mobilizing young people across the country to fight for candidates who backed our vision. Despite an increase in opposition spending and misinformation, we've broken through the noise and won.
Using millions of dials and texts to voters, pledge to vote campaigns, and strategic political planning with campaigns, we have proven that running on the Green New Deal wins races up and down the ballot.
Our movement is proud to not only elect progressives, but to use elections as a tool to build our movement. Every time we organize for an election, we also invest in our hubs, empower leaders to organize their communities, and bring hundreds of new people into our movement.