Our campaigns
Green new deal for schools
The Green New Deal for Schools will radically transform our school system to face the climate crisis and make sure all students have the right to a safe and good education – no matter their zip code or the color of their skin.
we are done with this bullshit
From California to Florida, New York to Idaho, high school students across the country are organizing to win a Green New Deal for our schools. We're calling on school boards and superintendents to pass district-wide policies, while building the power and momentum for federal legislation that transforms our school system to stop the climate crisis. For too long, students have been left out of the decision making spaces within our schools. We are the most important stakeholders in our education and we deserve to have our voices heard. Public schools belong to us, and we know we deserve better.
As heat waves break temperature records and wildfires block out the sun, students learn in classrooms with broken air conditioners and ventilation systems older than our grandparents. As hurricanes level our communities, our textbooks and curriculum undermine the severity of the climate crisis. As flooding contaminates our water, school pipes are still filled with lead and arsenic. As droughts spike food prices, students are crippled with hundreds of millions in school lunch debt. While millions of high-paying green union jobs go unfilled, students are told they must go to college to get a good career. And as the climate crisis exacerbates economic inequality, public schools are more segregated today than they were in the 1960's.
Our schools are not prepared to face the climate crisis, and they aren't preparing us to do so either. But rather than taking real leadership and championing climate justice, Republican politicians ban our books, peddle lies about our teachers, and defund public education.
ACT NOW
Tell your representatives to co-sponsor the Green New Deal for Public Schools.
Together, we will transition our buildings and buses to clean energy, rewrite our curriculum to include the full realities of the climate crisis, give all students free, sustainable school lunches, make schools places of refuge for when climate disasters strike, and prepare every single student for a good-paying union job in the new green economy.
What we want
Our demands
We're calling on school leaders everywhere to champion a Green New Deal for Schools so all students — no matter of zip code or the color of their skin — can attend safe, clean, and climate prepared schools.
Safe and clean buildings
School buildings, buses, and other school infrastructure are updated to run on 100% renewable energy, be climate resilient, and ensure safe, non-toxic learning environments.
FREE & HEALTHY LUNCH
Schools provide locally sourced and sustainably grown lunch to all students for free, to make sure no student goes through the school day hungry.
PATHWAYS TO GREEN JOBS
Schools offer opportunities to connect students with meaningful and good paying union jobs combatting the climate crisis.
CLIMATE DISASTER PLANS
When climate disaster strikes, school administrations have plans to help students recover and use buildings as designated relief zones for the whole community.
CLIMATE CURRICULUM
Students are taught a comprehensive climate justice curriculum – developed by educators, scientists, and students, not politicians and lobbyists – that helps them understand our history and prepares them to face the climate crisis.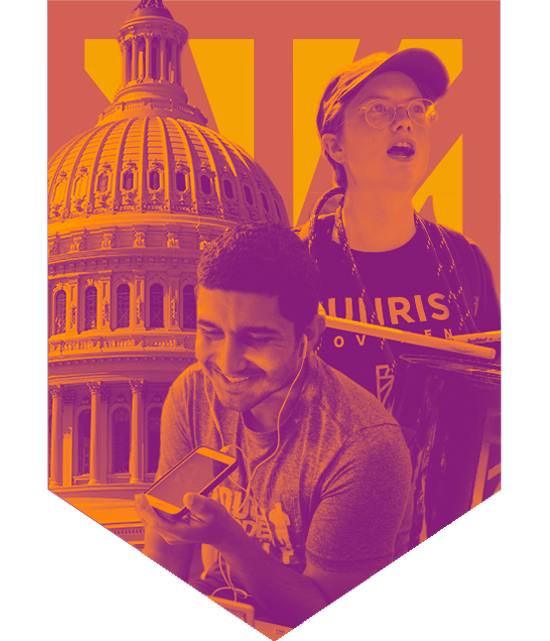 The Bill that Started it All
The Green New Deal for Public Schools Act is a landmark proposal to reshape America's K-12 public school system in the face of the climate crisis. Introduced by Rep. Jamaal Bowman and Sen. Ed Markey in September 2023, this bill would provide $1.43 trillion to public schools over the next decade to switch to clean energy, develop high-quality climate curriculum, and ensure schools are equipped to respond when climate disasters strike – prioritizing Black, brown, and working class communities on the frontlines of the climate crisis. This legislation would create 1.3 million good paying jobs annually and reduce U.S. carbon emissions by 78 million metric tons each year— that's as much as taking 17 million cars off the road! It would also represent one of the largest federal investments ever in racial equity in education. Learn more about the Green New Deal for Public Schools Act here.
Do you want the Green New Deal for your school?
Sign up to be on our email list that will keep you up to date on latest projects and phases of the Green New Deal for Schools.
FREQUENTLY ASKED QUESTIONS
How do we pay for the Green New Deal for Schools?
Across the country schools are dramatically underfunded. However, school districts are still making choices about where to spend money – which schools get how much, whether to spend on police officers or on new textbooks, and many other choices. These choices often end up hurting black, brown, and working class students while lining the pockets of wealthy corporations. It's time for school boards to make the choices that stand up for us.
In addition, schools actually have a lot of access to money from two pieces of recent federal legislation, the Inflation Reduction Act and the Infrastructure Investment and Jobs Act. Combined, these two pieces of legislation have money for schools to electrify their bus systems, install energy-efficient heating and cooling systems, give tax credits for renewable energy investments and more. Thanks to the Inflation Reduction Act and Bipartisan Infrastructure Law, in most school districts, it is now significantly cheaper to build net-zero buildings than their polluting counterparts.
Finally, the Green New Deal for Schools is a coordinated campaign across district, state, and federal governments. In order for a just transition, state and federal governments must pass and fully fund Green New Deal for Schools programs so that all communities, especially working-class and Black and brown communities, can share in the prosperity that the Green New Deal for Schools promises.
Is this politically feasible?
In 2017, schools in Batesville, Arkansas switched to 100% clean electricity and saved millions. Since then, Chicago, Salt Lake City, Denver, Miami Beach and countless other school districts have made clean energy commitments. In 2021, the New Jersey State Board of Education passed comprehensive K-12 climate education standards. In 2023, Minnesota and Michigan made all school lunches free. The stage for national K-12 climate legislation has been set for years and bold federal action on the climate crisis has been needed for decades.
The Green New Deal for Public Schools Act has the most cosponsors of any Green New Deal legislation in Congress. It is endorsed by the two largest teachers unions in the country and countless other parent groups, labor unions, and social justice organizations. That's not to say we don't have our work cut out for us. We need all the help we can get to make Green New Deal policies into political consensus nationwide. Sign up to join us here as we build a new political order in America.
Who can join this campaign?
This campaign is being led by middle and high school students across the country, but we need all hands on deck to win a Green New Deal for Schools. If you're an educator, local leader, or a parent, sign up here to find out how you can get involved.
Has this been done before?
No climate legislation of this scale has ever been passed in the U.S., however the federal government has subsidized public schools for decades. The Green New Deal for Public Schools Act starts where the Inflation Reduction Act, Bipartisan Infrastructure Law, and Elementary and Secondary School Emergency Relief Fund left off, expanding Title Ⅰ and IDEA programs and providing Block grants to school district across the country, especially in low-income and frontline communities.
What is the time commitment of the campaign?
High school hubs are led by teams of 3-5 students working on average 5 hours per week. The time commitment of hub members can vary based on commitment.