Sunrisers are marching over 600 miles across the Gulf South and California to win a robust Civilian Climate Corps.
The Sunrise Movement is getting into motion for our Good Jobs for All Campaign: Our members are marching 400 miles from New Orleans to Houston in the Gulf South and 266 miles from Paradise to San Francisco in California. The paths and stories are different, but the heart of each march beats the same. In May and June, members of the Gulf South and California hubs will march across the country, meet community members most impacted by the climate crisis, host visioning sessions about the Green New Deal future, and tell the stories of young people fighting to live right now through continuous climate and pollution disasters. We're marching to demonstrate the urgency of the climate and economic crisis, and the need for Congress and Biden to pass an ambitious Civilian Climate Corps as a part of the American Jobs Plan by the end of Summer 2021 as an immediate and first-step solution.
May 10th – June 18th
Take Action 8:30-9:30 ET on Thursdays and 2-3 ET Saturdays!
We'll take action with other young people to make a real change supporting the marchers and passing a CCC that meets the needs of our communities.
Other ways to participate: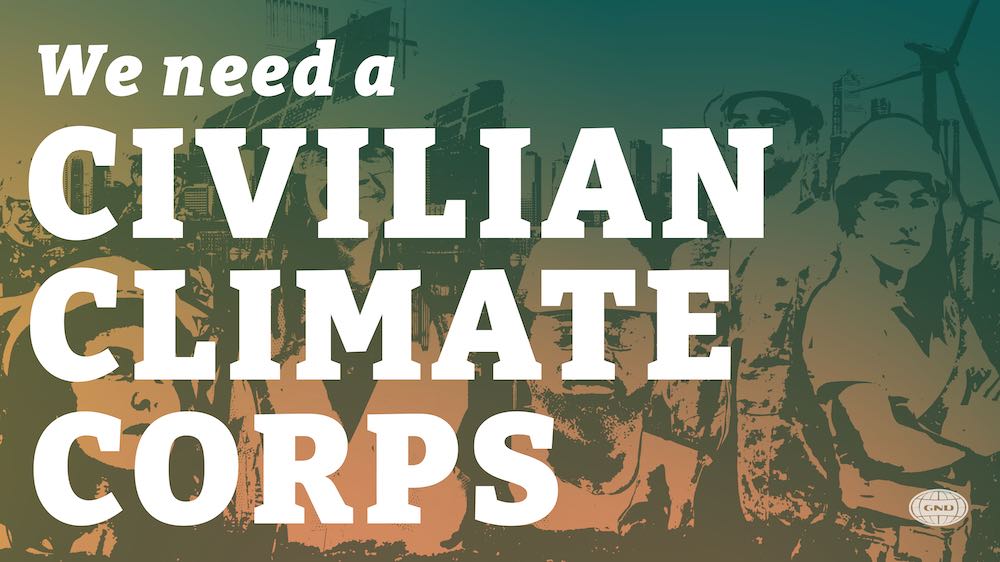 We Are Marching for the Civilian Climate Corps
The Civilian Climate Corps is a vision of a federal jobs program (modeled after the New Deal era Civilian Conservation Corps) that will put our generation to work combatting the climate crisis with equity and equality, and scaled to the size of the emergency.

We need a robust Civilian Climate Corps to provide good jobs to address the climate emergency with justice and start the Decade of the Green New Deal for the Gulf South, California, and the rest of our country.The CCC will be the first piece laid in our vision of a Green New Deal, the start of the decade-long project to build the country with justice, with jobs, and to fight the climate crisis. The CCC passed will set a precedent for the rest of the GND programs to come in future legislation.
Our demands for a Civilian Climate Corps:
Jobs that support us: Compensation of at least $15 per hour, full health care coverage, and critical support services such as transportation, housing, and childcare.
Educational funding: Complete and enabling educational grants of $25,000 per year of service, up to $50,000, eligible for further education at any level or to pay down student debt.
Long term career opportunities: All CCC members will be provided with a job and career pathway during their service through education, vocational training, and partnership with unions and employers.
Equitable recruitment and investment: Ensuring that environmental justice communities receive benefits of at least 50% of CCC and Partner Corps projects, and 50% of corps members are recruited from these same communities, with no age limit for participation in at least 50% of Partner Corps.
Key Dates During Trek:
More event dates are being finalized, but here's a brief overview of some of the things in store!
May 10th: Gulf Coast march launches in NOLA
May 17th: Gulf Coast march visioning with RISE St. James in Cancer Alley
May 28th: CA march launches in Paradise
June 4th: CA march action in Sacramento
June 5th & 6th: Gulf Coast models CCC through resilient home/neighborhood rebuild in Lake Charles
June 5th & 6th: Movement Wide Teach ins
June 10th: CA march in Santa Rosa
June 14th: CA march landing action day
June 21st: Gulf Coast march landing action
Donate to Help Us and Our Partners!